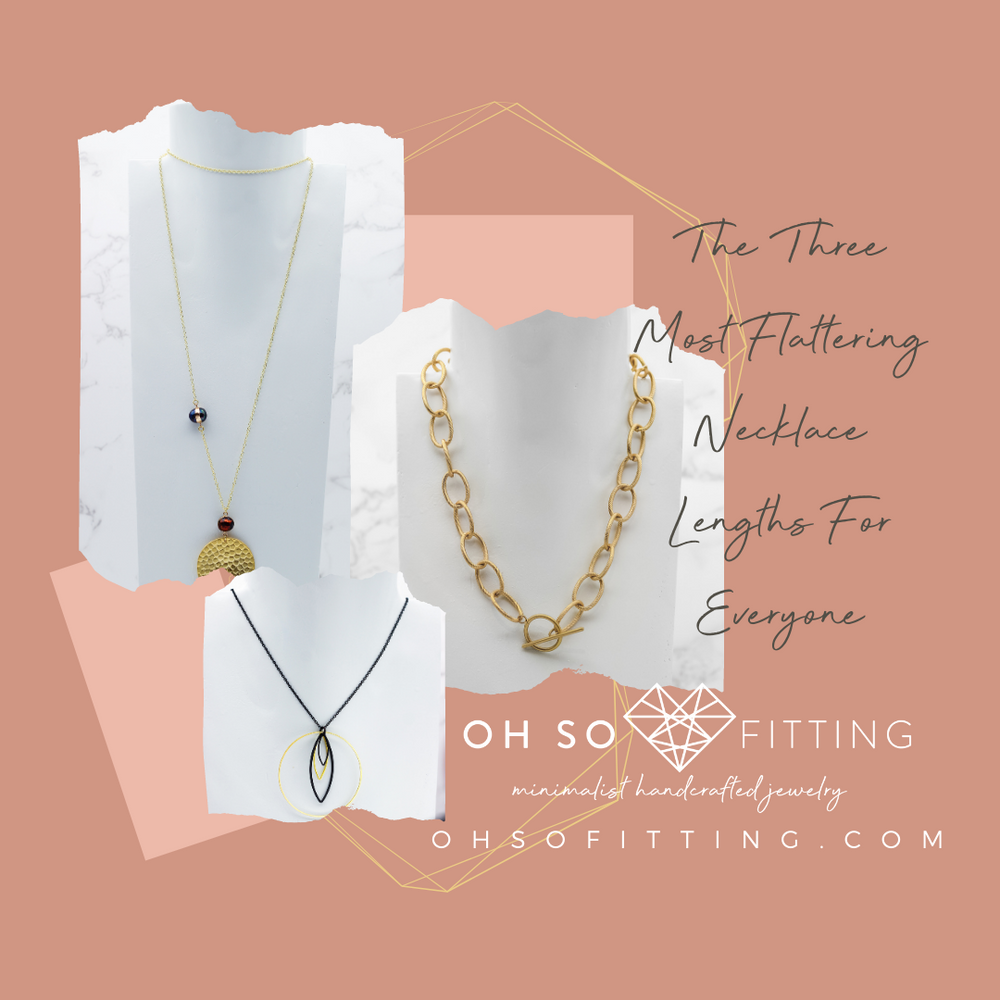 Hi there,
You've heard about how necklaces can elevate an outfit and complete one's look. When it comes to the style and design of necklaces, you have your own taste and preferences, but when it comes to choosing the necklace length, that's where it can get tricky— especially when you're presented with a lot of options! Choosing a necklace length can be a challenging, so let's start with the 3 lengths I know will look great on YOU.
Here are three necklace lengths that you should definetly have in your wardrobe:
16 inches

This necklace length is a classic that sits right on your clavicle. It's especially popular now if you want to look extra stylish and put together during Zoom calls! 16" necklaces sit closely against the base of the throat and look attractive on almost any kind of garment neckline, but especially with sweetheart and v-neck necklines. Tip: If you have a wider neck, you'll get the same look from an 18 inch length.
24 inches 
24 inch necklaces, known as a matinee length, fall perfectly around the collarbone and bust. This necklace length is ideal for wearing with business attire as its detail and style can give your formal clothes a much-needed extra oomph! This multitasker also works with your laidback outfits like a crew-neck top. I recommend pairing it with a fairly simple top without much pattern or decoration, as you don't want to make the necklace unnoticeable. If you tend to go for a minimalist style of dressing, this necklace length will work great at breaking up large blocks of solid colors. 
33 inches
A 33" necklace falls under the necklace length called the Opera style. These necklaces sit below the breast area and are perfect finishing touches for tops with high necklines. However, if your bust size is on the larger size, you might want to consider ordering your necklace in custom length so that it will fall under your bust instead of on top of it. (Tip: try 36 or 38 inches.) Aside from the fact that this dramatic length can elongate a round face, 33" necklaces can also be the finishing touch for your evening wear and long gowns.
Necklaces are a great fashion investment. While you should also consider neck size, face shape, and style when choosing necklaces, trust me when I say that you can rarely go wrong with 16", 24" and 33"! These three flattering necklace lengths are all available here at Oh So Fitting, but once you're ready to explore, I also offer custom necklace lengths! Don't hesitate to send me a message, and let's find the perfect necklace for you.

P.S. Leave a comment and let me know your favorite necklace length!