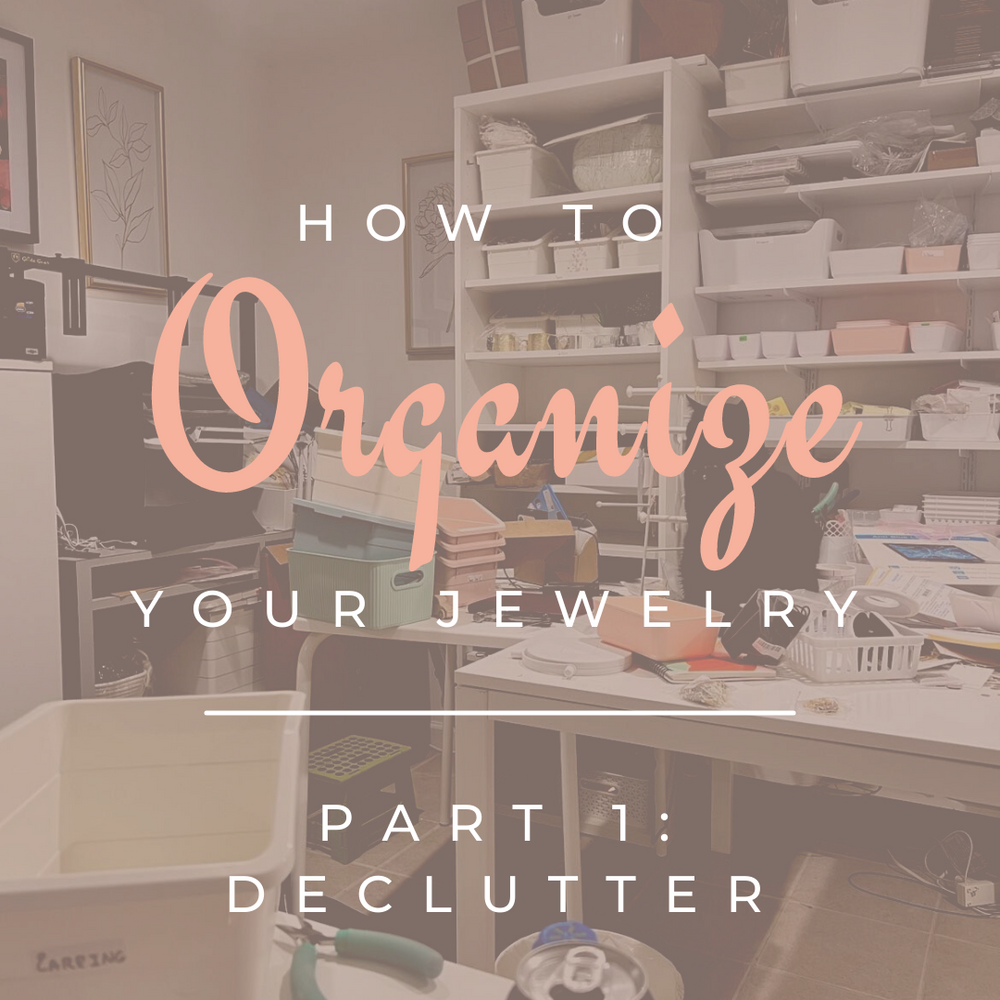 How to Declutter Your Jewelry
It's the beginning of the year and it is time to get things in order over here at the "Oh So Fitting" Studio. The Studio is a mess!
We are getting reorganized, designing our new line, and getting ready for show season(tbd). This is the first in a 3-part blog series on how to Organize your jewelry. 
The first step is to declutter! Which in my opinion is the toughest job because we have to part with our stuff. 
Let's sort things first. Pull out all of your jewelry and go through everything to decide which pile they go in: keep, repair, and get rid of.  
 3 Things to Keep: 
Any sentimental pieces

Essential pieces you always reach for

Your fine jewelry pieces that you may not wear often but you always reach for during a special occasion
4 Things to Repair:
Pieces that no longer fit, anything with a chain can be made larger by adding another loop in the chair or even a handy necklace/bracelet extender. Rings can be enlarged. 

Earrings with missing post holders(you can buy extra on amazon)

If you have a pendant but the chain is missing you can always buy another chain for the piece. 

Earring with a missing post or hook, you can buy these items on amazon or your local craft store and repair them yourself easily. 
5 things to get rid of:
Anything you don't like

Anything you feel like you don't already have an outfit to go with. 

Pieces that don't make you feel good

Pieces that you are allergic to

Pieces that are irreparable, many pieces are easily repairable but if the metal of a piece has torn and it is fashion jewelry it is likely irreparable. If you are unsure about

one of my

pieces you are welcome to contact me for a consultation.
What should I do with my "get rid of" pile?
If the pieces are still in good shape you can:
 Donate them to a women's professional clothing closet which donates professional clothing to women who are working to get back on their feet. 

If your pieces are from a popular brand you can sell them on Poshmark or Ebay

And of course you can donate them to a thrift store. 
If the pieces are broken or in bad shape
Donate them to a school's art department or a youth development Non-profit. Many of these programs are in need of supplies and materials. They are usually more than happy to take them for you. 

Keep them for kids you know! My nieces love playing with my leftover shiny things. They love to come to the studio and go through the extra bits and bobs I have in my drawers and play dress-up. 
Now that you have your pile go ahead and get rid of the "get rid of Pile"
Join us here on the blog next week for Part 2: How to Clean your Jewelry.